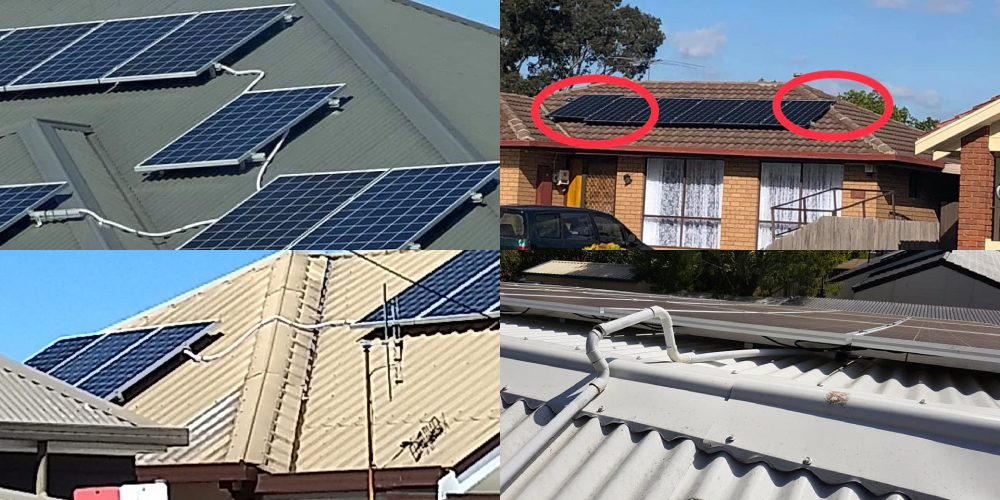 09 Feb

Choosing a solar provider: 9 tips to avoid dodgy dealers and iffy installers

Considering going solar? Good thinking. It really is one of the smartest long-term investments you can make for your home.

But before you sign on that dotted line, be sure you're partnering with the right provider. Unfortunately, the solar sector is rife with companies that are more interested in lining their back pockets than reducing your energy bills.

And for us, there's nothing more upsetting than seeing good people being taken for a ride.

That's why we've put together these 9 tips – on what to check, question and avoid when choosing a solar provider.
1. Heed the high-pressure sales tactics
Choosing solar is a big decision – emotionally and financially.
So, if a salesperson is putting on the pressure or throwing enticing incentives your way, you need to question their credibility and the ethos of the company they represent.
A salesperson who doesn't respect you now, before they land the sale, is unlikely to look after you once the deal is done. And that means you could be left in the lurch if you encounter any problems down the track.
Remember that smooth-talking salespeople often deliberately fluff over important details. So be sure to ask for written terms of the offer so that you can sift through it all – at your own pace.
2. Sniff out the sneaky clauses  
The average person isn't able to easily pinpoint loopholes in a contract – and dodgy solar companies know this. That's why they litter their agreements with sneaky clauses that increase their profits and remove their liability – at your expense.
So, take the time to read through the T&Cs carefully to avoid any nasty surprises later. Some key clauses to keep an eye out for include:
'A liability maximum of $100… not liable for any future damages':This clause says your provider will only pay up to $100 worth of installation damages. But in reality, this will only cover a couple of broken tiles. This clause also means they won't cover any future damages resulting from poor installation.
'The right to substitute your product for an 'equal' product due to availability':Who decides what's equal? That's right – your solar energy provider, who may be very keen to save a buck or two.
'Engaging the Installation Contractor as your agent' – hence passing liability. It's standard in the solar industry for providers to subcontract the installation to third parties. However, it's not okay for these providers to pass all liability onto them. If something goes wrong with your installation, make sure you know who is accountable for what.
3. Inspect the installer's credentials 
Some solar companies will save themselves money by subcontracting 'cheap' companies and shonky people to install your system. And when they do, it often results in faulty and unsafe fittings.
So, unless you want a backpacker installing your system (an all-too-common scenario in Queensland), ask your solar provider to supply a copy of the installer's certifications.
You should also verify their credentials yourself by searching the installer's name on the CEC website.
4. Seek out the 'shoe' that fits
Your household has unique energy requirements – and therefore, unique criteria when it comes to choosing the right-sized system.
Despite this, many solar energy providers continue to sell generic packages. And that means you could end up with a system that's either too big or too small, which can be an expensive mistake for years to come.
The lesson? Pay attention to how much time your provider spends getting to know you, assessing your energy use and budget. This might include auditing your appliances, reviewing your bills, and asking questions about your future energy needs.
Ultimately, your provider should be able to explain exactly why they are recommending a particular system for your home – in clear, simple language.
5. Stay vigilant of the 'interest free' loan
While an interest-free loan may seem enticing at first, beware the old adage, 'if it sounds too good to be true, it probably is'.
In the solar industry, interest-free loans simply mean more expensive packages. For example, you may be told you're getting a $5K product + installation. When in reality, the package is actually worth $4K and the loan provider has added $1K into the deal for themselves.
Our advice? If you're considering any kind of payment plan, make sure the loan fees are separated from the overall cost of the system. What's more, in Australia we're lucky to have a number of credible green energy financers, so you can avoid these loan liars altogether.
6. Chase away the cheapies   
You get what you pay for. Somehow, we know this when it comes to purchasing other big-ticket items, like cars. But the allure of a cheap solar system can sometimes get the better of our common sense.
Much like a cheap car, a cheap solar system will cost you more in the long run.
To keep costs low, these cheap systems are made up of low-quality components. And, unsurprisingly, these poorly made parts are often accompanied by dodgy warranties. So, when the system inevitably breaks down, guess who will be left covering the repair costs? You.
What's more, low-end systems don't run as efficiently as those that are made by a reputable manufacturer. This means your energy outputs will be low, and you'll continue to pay high electricity bills.
7. Pass over the overpriced
At the other end of the scale, don't automatically assume that the most expensive option is the best. Often, larger companies charge inflated prices to cover their overheads and marketing.
To avoid this situation, ask for a breakdown of the total cost – with separate line items for components and installation.
8. Avoid the aftercare conundrum
Choosing a solar provider is not just about what they can do for you today. You also want to know that they'll look after you tomorrow – and long into the future.
So, before you sign anything:
Ask your solar energy company what kind of support they provide after installation day. Specifically, find out how you can access support and who will be handling your requests.
Be sure your provider is an Australian company (so that you can get immediate help when you need it).
Find out if your system's various components are made by a manufacturer with a local presence. If you ever need to claim on your warranty, you don't want to find yourself on a frustrating overseas call.
9. Read their reviews
There's nothing more reassuring than a host of positive customer reviews to put yours doubts to bed.
So sit down, grab a cuppa and start sifting through those Google and Facebook reviews.
Plus, trustworthy solar energy companies tend to share their good news stories, so check out their website for any in-depth case studies or testimonials.
While this advice might make going solar seem daunting – with the right solar partner by your side, it is possible to enjoy a seamless, stress-free experience, from start to finish.
If you're unsure on the next steps, why not give us a call? At Elevate, we give you the clear, simple advice you're looking for. No tech talk. No pushy sales tactics. Just good human beings who genuinely care.Get in touch today on 1300 122 022.