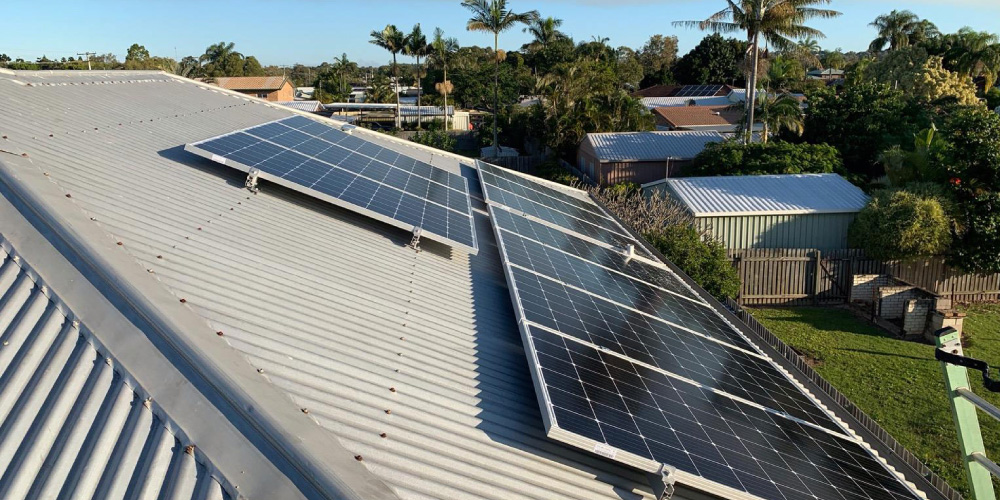 14 Feb

A growing family doesn't have to mean growing bills: meet Ingrid

Discover how Ingrid from Hervey Bay reduced her family's quarterly energy bills from $1,100 to $200 – with the help of Elevate Solar and Energy Solutions.
Ingrid knew there had to be a better way
Ingrid Swain's situation would be familiar to many Queensland parents.
Living in a four-bedroom house with her husband and 13-year-old son, Ingrid's energy bills were adding up. Keeping life comfortable in the summer heat included operating their pool pump for eight hours a day – and running their much-needed aircon continuously.
What's more, with a growing teenager in the house, Ingrid knew those energy bills were only going to keep rising – thanks to the sheer number of technological devices he would be needing.
Ingrid decided there had to be a better way. And she knew that now was the time to act.
"I wanted to get our bills lower so I started to think that maybe solar would be a smart option for us. I had seen advertising in our area and was curious to find out more," Ingrid said.
Selecting the right solar provider
As a starting point, Ingrid reached out to two different solar companies for quotes. She knew she wanted to go with a trusted company and she had a rough budget in mind.
"The first provider's quote came within our budget, but I didn't feel they understood our needs. They proposed a small system and I doubted it would cope with our family's increasing energy use," recalled Ingrid.
Next, she spoke to Alison from Elevate Solar and Energy Solutions.
"Alison really listened, assessed our usage and projected what we would need into the future. She was fantastic. I felt really confident that she understood our situation."
And when Alison offered a bigger system for the same price as the smaller one proposed by the other provider, Ingrid was delighted. The system was also from a more reputable brand.
"The whole experience filled me with confidence in working with Elevate. I really valued that Alison took the time to explain the technology to us and how it would work – so clearly and patiently. Deciding to go with Elevate was a no-brainer," she said.
Going the extra mile
Once Ingrid signed the paperwork, Alison and the Elevate team continued to work hard for Ingrid.
"Alison informed me I was eligible for a substantial government solar grant. She filled out all the application forms and took care of everything. I was blown away with how simple it all was. The incentive covered some $6,200 of our system's costs."
What's more, leading up to installation day, the Elevate team was in constant communication with Ingrid.
"I knew exactly when the installation team would arrive and what to expect on the big day," said Ingrid.
Installation day
Over two days, the Elevate team installed 10.2kW worth of Suntech panels on Ingrid's roof, comprised of 34 panels.
She also had an 8.2kW Fronius inverter installed.
"The installation team was so professional and a pleasure to have at our home. There was no mess or fuss."
The team also helped Ingrid set up an app on her phone to see how much energy their panels were generating and track the excess energy going into the gird.
"They thought of everything and took care of every element of the installation," she said.
Help and aftercare service only a call away
Ingrid says her system has been running beautifully from day one.
However, she also knew that the Elevate team was only ever a phone call away if she encountered any issues – as she had several calls from them checking in that the system was working well.
And just as well too. Over one year down the track, Ingrid encountered issues after connecting their house to the NBN network. She struggled to connect her new modem to the inverter, so she gave Alison and her team a call.
"Alison came over straight away. She reset our inverter so that it could talk to the new modem, and everything worked again. I'm sure no other solar company provides this level of service," says Ingrid.
The freedom to live comfortably
Since having the solar system, Ingrid and her family installed a second air conditioning system in their home. And despite this large jump in energy usage, their bills are at an all-time low – going from $1,100 a quarter down to an impressive $200.
"I'm so pleased we had solar installed. We now have the freedom to get the appliances we need to live comfortably, without worrying about our energy bills. "And I'm so grateful to Elevate. I would recommend them to anyone considering solar. You'll be very well looked after," says Ingrid.